OUR SIGNATURE SALON SERVICES
OUR SIGNATURE SALON SERVICES
Women's cut & style 58+
Men's cut 58+
Blowout Style 48+
Updo Style 75+
Color to ends 86+
Color Retouch 75+
Balayage (Face Frame) 78+
Balayage (Partial) 115+
Balayage (Full) 178+
Foil (Mini) 58+
Foil (Partial) 105+
Foil (Full) 158+
Toner 30+
Corrective Color 100 per hr.
*TBDAC= To be determined after consult
Our Formula 18 line is finally here!
Formula 18 is a plant-based material that offers long-term protection form hash hair color, free radicals, peroxides, and environmental stressors. Damaged hair has a raised cuticle, while healthy hair has a smooth, closed cuticle. Formula 18 penetrates the cuticle to create a smoother, healthier appearance. Formula 18 is a blend that creates a highly effective hybrid biopolymer to aid in reducing and fixing damage done to the cuticle while simultaneously strengthening the hair fiber.
Keratin Smoothing Treatment 250+
Keratin Mini 138+
Olaplex Treatment 47+
Meet Our Amazing Stylists
Darla is a Certified Master Cut, Colorist. At age 26 she opened her first of three salons. She specializes in the complexities of coloring gray hair, giving her clients creative alternatives in their colors. Darla believes that every woman has her place in the world and that their hair should reflect their style and give them confidence. One of her favorite quote is, "If I cannot do great things, I will do small things in a great way".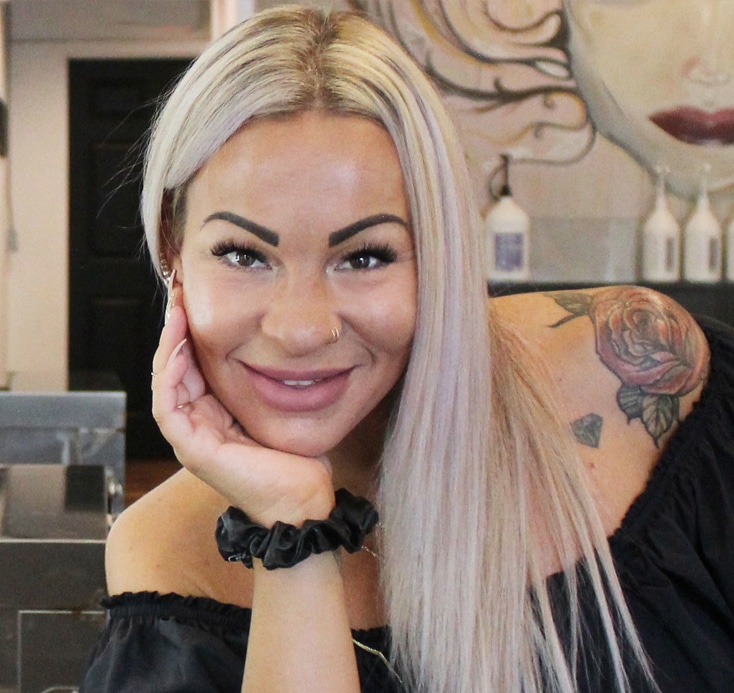 Breklyn is a Certified Master Stylist and is certified in Corrective Color. Her balayage techniques have earned her much recognition. Although she specializes in long hair and corrective color, she loves to do trendy pixie cuts. Breklyn also loves her 2 bulldogs, Marly and Ziggy. One of her favorite quotes is: "The only way to do great work is to love what you do. If you haven't found it yet, keep looking. Don't settle." -Steve Jobs
Kuniko is a Certified Stylist with advanced training in color and cuts, mastering all the new trends in highlighting and balayage. She is bilingual, speaking both Japanese and English. Kuniko expresses her deepest passion: "I love my son more than anything in the world". Among her favorite quotes, "The most important thing is to enjoy your life – to be happy. It's all that matters!
I felt like I was in my living room hanging with my girlfriends and walked out the door looking gorgeous.
Darla and staff are awesome and friendly. She has given me great cuts using high/low lights to help me transition into my natural grey hair…
Breklyn is absolutely the best!! Whether its color or just a cut, results are AMAZING!! She has been my colorist/stylist for a few years and feel blessed I found her. HIGHLY RECOMMENDED.